What a wonderful evening we had at our "SensationALL Ball" last Friday!
We raised an incredible £9500 which is a record breaking amount for us, and will fund up to 3 terms of activities, education, life skills and learning for our unique individuals and their families.
Thank you so much for being part of it – here's to next year!
If you'd like copies of your photos please save images as above, or for your picture in different file format email info@sensationall.org.uk
SensationALL was set up as a not-for-profit organisation because we believe families who need our services should not be penalised for requiring additional support. Therefore, we aim to provide specialist activities and facilities without an expensive entry fee and thanks to our funders we are able to heavily subsidise all attendance fees.
To raise the money to keep the charity going we rely on support from
local businesses
private trusts & foundations
individuals
community groups
We also hold our own fundraising events each year to generate donations, the largest of which is 'A SensationALL Ball!':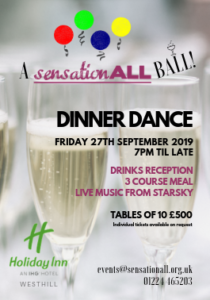 The majority of our income is from private trusts and foundations – we receive no local authority funding.
Currently we are grateful to have multi-year funding from:
If you want to support us you can donate to SensationALL via our PayPal or JustGiving accounts.
…thank you ALL so very much!!