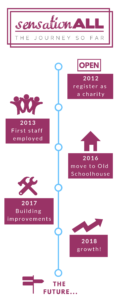 Our story…
SensationALL evolved from the closure of the Raeden Centre (a facility for children with complex needs in Aberdeen) in the Summer of 2011, which left a gap in local service provision.
A few parents and professionals came together with the vision to give families living with support needs and disabilities a place to belong, where they can feel empowered, safe and supported throughout their lives. A place where they could access specialist support in a fun and friendly, tailored environment.
Due to the lack of existing local provision, we wanted to create a place for families to have the opportunity to enjoy leisure activities together. Many mainstream facilities cannot accommodate an individual with multiple support needs because accessibility can be problematic, inclusion of siblings difficult and ultimately environments are too busy, loud and generally overwhelming to someone with sensory issues.
Initially we rented a room in the Lawsondale Sports Pavillion, where we began to run family support sessions. The demand from attendees was overwhelmingly positive, so we took the plunge and became a registered Scottish charity in 2012.
Soon the need for a permanent home was clear as the requirement for office space became a necessity. The opportunity arose to apply for the Community Asset Transfer (CAT) of a building owned by Aberdeenshire Council, called the Old School and Schoolhouse. The Schoolhouse is one of Westhill's few historic buildings and would have otherwise been earmarked for re-development.
In August 2016, our application was accepted (highest-value CAT in Aberdeenshire to date) and we are currently finalising a 175 year lease, with an annual rent of £1.
But this is only the beginning…we have big plans to transform the building into a state-of-the-art facility for MSN families and the local community. A truly inclusive facility for all abilities, and a home for our organisation for many years to come.