October holiday programme (school-age children):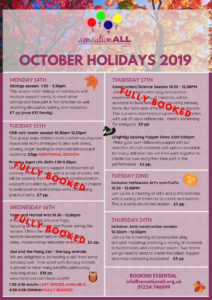 Booking is essential unless indicated otherwise – contact us
Our groups are limited in size to ensure that all individuals have a positive experience and benefit from attending. The needs of the individuals attending are always taken into consideration by our team.
Before you sign up for any groups you are welcome to visit our centre and chat to our staff, we usually hold drop-in mornings on the first Tuesday of every month when you can meet the team and look around our facilities.
"We had a ball with you guys today! The kids had a fab time!! We will definitely be back."
We are here for you! If you are feeling overwhelmed, lost or just need some new ideas or techniques then we can help:
Tea & Tips sessions (£10 per hour) are informal consultations with a chat over a cuppa. Our staff offer decades of specialised experience and are excellent listeners! (Please note this is not a play session.) Phone consultations can be arranged if this is more suitable.
Here are some useful information links:
Top tips for supporting your sibling child
We offer a programme of training sessions each year that are available for parents, carers, volunteers, professionals and private organisations.
Check upcoming dates here.
Contact us to make an enquiry regarding bespoke training packages and workshops.
Please get in touch if you have any questions regarding any of our services.