As of 18th March 2020, we made the difficult decision to suspend all face to face activities and groups until further notice in response to the Coronavirus outbreak.
However, we are committed to supporting you remotely so will be posting videos & blogs to share resource and activity suggestions. Follow our social media channels to be kept up to date with all our SensationALL secrets!
Visit our new resource webpage
---
Virtual support services
Our team have been working hard to create a range of services for you to access from home.
Click the below image for the descriptions of services currently available and contact us at info@sensationall.org.uk to register your interest.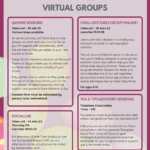 ---
We are here for you! If you are feeling overwhelmed, lost or just need some new ideas or techniques then we can help.
Tea & Tips sessions (£10 per hour) are informal consultations. Our staff offer decades of specialised experience and are excellent listeners!
From 18th March all Tea & Tips will be held via phone or video call.
Please contact us by email to request an appointment – info@sensationall.org.uk
---
If you are new to SensationALL we still ask that you register with us if you wish to access any of our virtual services. Your registration gives our team the important information they need to know about the individual with support needs so they can offer tailored, appropriate support.
Registering also enables us to add you to our mailing list so we can keep you informed when groups are back up and running.
---
Face to Face Groups:
The below details are for your information only – please note; no groups are currently running from our centre:
SensationALL group descriptions
January to June 2020 timetable
Easter holidays 2020 children's groups
---
"We had a ball with you guys today! The kids had a fab time!! We will definitely be back."
Useful links:
Top tips for supporting your sibling child