The timetable:
Our groups take place Monday to Thursday and every other Sunday – there is something for every age group from free-play sessions to structured self-regulation programmes.
Booking is essential for all our groups – contact us
Each group is limited in size to ensure that each individual has a positive experience and benefits from attending. The needs attendees are always taken into consideration by our team, if you have any queries please don't hesitate to ask.
Click here for the January to June 2020 diary
Featured Groups:

MUSICALL YOGA
All ages and abilities welcome.
Fortnightly on Wednesdays, 6.30-8pm
---
INCLUSIVE SOCIAL GROUP
Primary aged children and their siblings
Every Monday 4.30-5.30pm, email us to enquire about availability.
---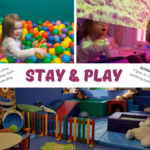 FAMILY PLAY SESSIONS
Fortnightly on Sundays either 1-2pm or 2-3pm
Access the soft play and sensory rooms in a relaxed, supported environment.
---
"We had a ball with you guys today! The kids had a fab time!! We will definitely be back."
Information Mornings
Our monthly information mornings give you the chance to meet some of the team, ask any questions about services and have a look around the facilities.
The next few dates are below, please email us beforehand to let us know you're coming along:
Tuesday 4th February
Tuesday 3rd March
Tuesday 7th April
Tuesday 5th May
Tuesday 2nd June
We are here for you! If you are feeling overwhelmed, lost or just need some new ideas or techniques then we can help:
Tea & Tips sessions (£10 per hour) are informal consultations with a chat over a cuppa. Our staff offer decades of specialised experience and are excellent listeners! (Please note this is not a play session.) Phone consultations can be arranged if this is more suitable.
Here are some useful information links:
Top tips for supporting your sibling child
We offer a programme of training sessions each year that are available for parents, carers, volunteers, professionals and private organisations.
Check upcoming dates here.
Contact us to make an enquiry regarding bespoke training packages and workshops.