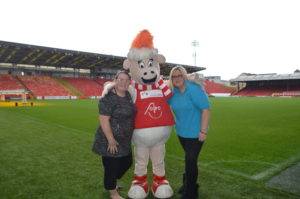 Football fans at the recent game between Aberdeen and Celtic at Pittodrie dug deep to raise more than £1,500 for Westhill based charity SensationALL, at AFC's first ever joint can collection involving both sets of supporters.
Aberdeen FC Community Trust (AFCCT) organised the collection along with the Celtic FC Foundation (CFCF) to raise the profile of SensationALL and help the charity with their fundraising campaign to support families living with Autism, learning difficulties and disabilities.
Both AFCCT and CFCF are committed to improving the lives of those in their communities with both organisations providing assistance to people with Autism.
Aberdeen FC was named Scotland's first Autism Friendly Football Club earlier this year in recognition of the steps the club and AFCCT have taken to make the match-day experience user-friendly for all and CFCF's award-winning 'Ability Counts' programme includes projects designed to improve the lives of people living with Autism.
Ally Prockter, chief executive of AFCCT said he is proud that both sides came together for the charity.
"We are extremely grateful for the generosity demonstrated by Aberdeen and Celtic fans at the match. While it's all about the competition on the pitch, both teams are united by their community values and dedication to improving the lives of others through AFCCT and CFCF.

"SensationALL is a very deserving charity which helps those with multiple support needs and their families across the North-east by providing therapeutic sensory activities and support networks, training in therapeutic techniques and activities and opportunities for play and social integration."
Tony Hamilton, Chief Executive of Celtic FC Foundation added: "I'm delighted that this was a success. We've visited the SensationALL project and it fits in perfectly with what we're doing with Ability Counts. I hope it goes from strength to strength."
Thanks to support from a syndicate of North-east entrepreneurs, AFCCT's mascot Donny the Sheep will sport SensationALL on his shirt for the rest of the 2017/18 season.
Bob McCracken, Chairman of SensationALL's Board of Trustees said: "We are delighted to be associated with two such prominent charities and hope that we can build on this initiative for the benefit of the communities in which we work"
AFCCT operates as a charity independently of Aberdeen Football Club but works closely with North-east local authorities and many other organisations including the Life Changes Trust, NHS Grampian, Sport Aberdeen, Police Scotland, Aberdeen Sports Village and other members of the Active Aberdeen Partnership.
Aberdeen Football Club is proposing to build a new community sports campus and stadium with on-site training and AFCCT facilities at Kingsford, near Westhill.
The 25-hectare site would see the construction of the largest new-build stadium in Scotland in 100 years and is vital for AFC to achieve a successful and sustainable future and to maximise its socio-economic contribution to the city and wider region.