After a busy few months in the SensationALL Old Schoolhouse, including the summer and October holiday programmes and our new group, Sensory Playgroup; the services team have put together a collection of some of our most successful sensory play ideas. How do we measure the success of our sensory play ideas? By the feedback and experience on the day of the children with additional and multiple support needs and their parents and or carers who are on site!  
Play is an important way for children to spend their time, not only is it fun, but it gives the child(ren) plenty of opportunities to learn-through-play about the world around them. Children start off by exploring the world through their senses – enjoying how things look, feel and even taste. Sensory play is a way for children to explore all of their senses and build up a tolerance for different sensory experiences and the environment around them; it also helps support language and communication development, social interaction, problem solving and fine and gross motor skills.
Children who have multiple support needs (MSN) may have more specific difficulties with some sensory sensations and this can sometimes result in challenging reactions. Children with multiple sensory needs require more tailored learning experiences, like sensory play activities, to help them makes sense of these experiences and build up tolerances to different sensory stimulation.
Sensory play is not only about touch but also taste, smell and colour; here's some DIY sensory play activities that the services team at SensationALL used recently that utilise all the senses.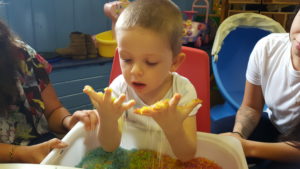 A rainbow rice tray, we used this play activity for a weather-themed session at our Sensory playgroup. You will need:
1kg uncooked rice

Food colouring (yellow, green, blue and pink)

Zip lock bags
Method: separate your rice evenly into four zip lock bags, then add the different food colourings to each bag of rice. Add about a teaspoon of colouring to each bag to begin with and mix together with a spoon. Add more food colouring accordingingly. Once evenly coated you should be left with four different coloured bags of rice. Leave these to dry overnight with the zip lock open. Your rice should be dry the next day and ready to assemble into your sensory rainbow rice tray! Arrange the rice into four sections, with the separate colours, then watch them all mix together as they are played with.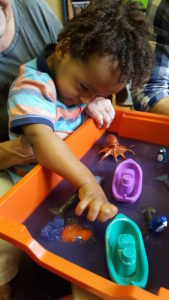 The Under-the-Sea Jelly Tray was used during one of our themed-weeks during our recent Sensory playgroup programme. You will need:
4 packs of gelatin (each pack should have 4 gelatin leaves in it)

Blue food colouring

Assorted 'under-the-sea' themed toys
Method: According to the packet instructions, separate your gelatin into individual leaves and add boiling water to it. The ratio should be around 1 pint of water to 1 leaf of gelatin. Do this individually for each leaf of gelatin, stirring the gelatin into the water until it dissolves completely, then add each pint of water/gelatin mix into your tray. Once your tray is three quarters of the way full, add a few drops of the blue food colouring to the water/gelatin mix and mix in until you get the desired shade of blue. Next you can add your 'under-the-sea' themed toys to the tray, positioning some of them so they stick out a bit of the water/gelatin mix. We used some sea animal bath toys, penguin toys and boats for our tray but you can use anything that you think may be a good addition! Leave the tray on a level surface or in your fridge to set overnight and by the next day the jelly will have set and the Under-the-Sea jelly tray will be ready to use!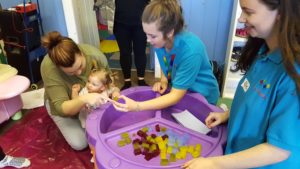 The Sensory Ice Tray was used during one of our Sensory playgroup sessions and we put the coloured and flavoured ice cubes into a water tray to allow the children to safely explore touch, taste and temperature. The ice cubes can also be used to "paint" onto paper, for a fun sensory drawing activity. You will need:
Four ice cube trays

Food colouring (red, green, yellow and blue)

Teabags (Red Berry, Peppermint and Lemon and Ginger)
Method: Brew three mugs of tea, one with a red berry tea bag, one with a peppermint tea bag and one with a lemon and ginger tea bag. Leave the tea bags to brew for around 10 minutes, then remove the tea bags and add a couple drops of the corresponding food colouring to the individual mugs (red for the red berry, green for peppermint and yellow for lemon and ginger) until you get a strong colour for each one. Take three of your ice cube trays and fill them up with the tea you have brewed. For the fourth tray, add a few drops of blue food colouring to a mug of cold water then stir so the food colouring is evenly distributed and pour the blue liquid into the fourth ice cube tray (this tray will be unscented to allow children that are more sensitive to smell to still have an enjoyable sensory experience). Put all four ice cube trays into the freezer overnight then take them out the next day ready to use.
The next SensationALL sensory play group session will start in 2018, as well as our Chill-OOT programme and Early Communications Group. Email info@sensationall.org.uk for more information about these or any of our other groups and workshops. #SensationALL