SensationALL was created in response to the closure of the Raeden Centre (a facility for children with complex needs in Aberdeen) in the summer of 2011, which left a gap in local service provision.
Parent, Susan Kay and occupational therapist, Suz Strachan came together with the vision to give families living with multiple support needs (MSN) and disabilities a place to belong, where they can feel empowered, safe and supported throughout their lives. A place where they can access specialist support and sensory facilities in a safe, friendly and tailored environment.
Due to the lack of existing provision in the North East of Scotland, they wanted to create a place for families to have the opportunity to enjoy leisure activities together. Initially operating as a voluntary service from the Lawsondale Sports Pavillion, they ran family play sessions. The response was overwhelming and demand for more frequent, structured support groups quickly grew, so they took the plunge and registered as a Scottish charity in 2012 headed up by Suz as Service Manager.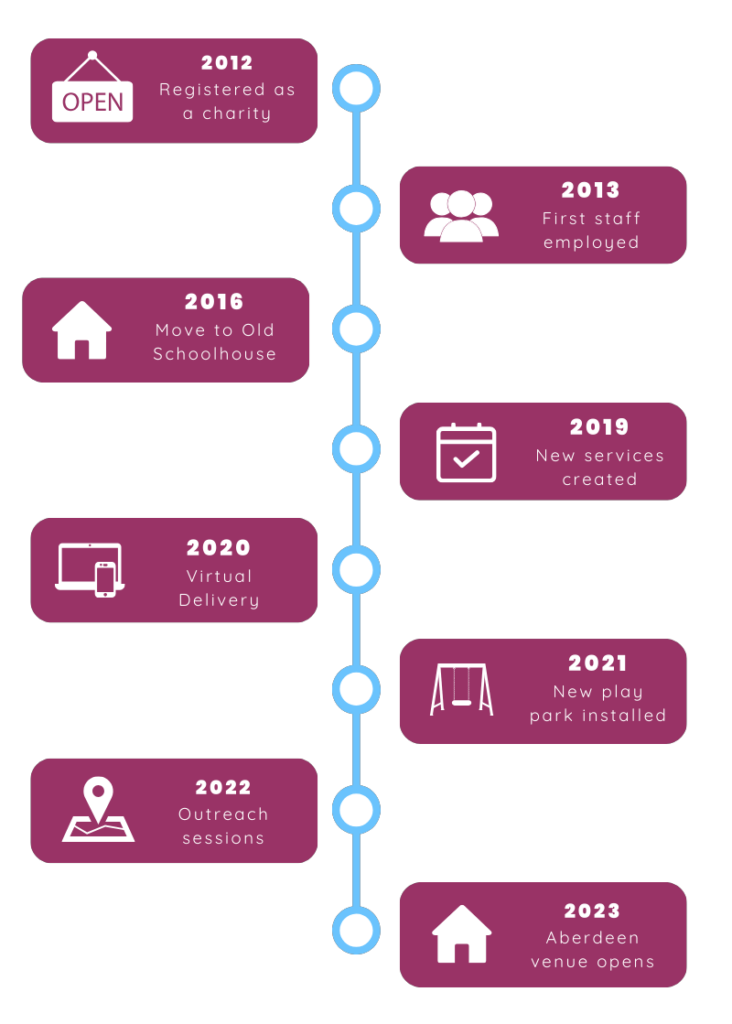 There was now need for a permanent premises so an application for the Community Asset Transfer (CAT) of the Old Schoolhouse in Westhill began. The Council, the transfer was finalised in May 2019 securing our long-term home and preventing one of Westhill's few historic buildings being taken out of community use.
We successfully grew our range of services and subsequently the number of families we supported between 2016-2020 becoming known for our adaptable and needs-led approach to supporting those with neurodiverse and complex conditions. We became an approved supplier of Flexible Learning Pathways with Aberdeenshire Council which saw us provide innovative support for primary school pupils with additional needs.
Then in 2020, the Covid pandemic forced us to suspend in-person activities and deliver sessions virtually via online platforms.
2021 was a period of rebuilding in the wake of covid but the need for our support was greater than ever with families struggling to transition back into the "new normal". Demand from new families was growing from across the Northeast so in 2022 we began delivering outreach sessions in various locations from Stonehaven to Banchory to Inverurie to Peterhead!
A huge milestone came in 2023 when (thanks to National Lottery funding) we were able to take on the lease of a second venue in Aberdeen city centre and Belgrave House, in Rosemount, now provides a central hub for more vital SensationALL sessions.
So to the future… we have big plans to transform the Old Schoolhouse into a state-of-the-art facility over the next few years while continuing to grow our community by expanding our services across the Northeast to reach more families. We are also embarking on exciting partnerships with other third sector organisations so we can do more, for more people!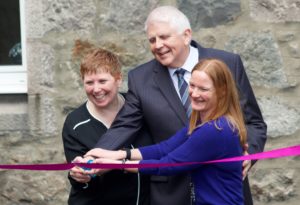 Susan Strachan, Bob McCracken and Susan Kay, May 2019 [image copyright SensationALL]