Training courses have been on hold during the covid pandemic but we are now planning to resume workshops in 2021, keep checking our social media channels and this page for details of upcoming sessions.
Listed below are some of the typical Multiple Support Needs (MSN) training topics we offer.
Training workshops are open to parents/carers, professionals or organisations and bespoke training can be designed to meet your objectives.
---
SensationALL have a vast amount of knowledge!

feedback from a training attendee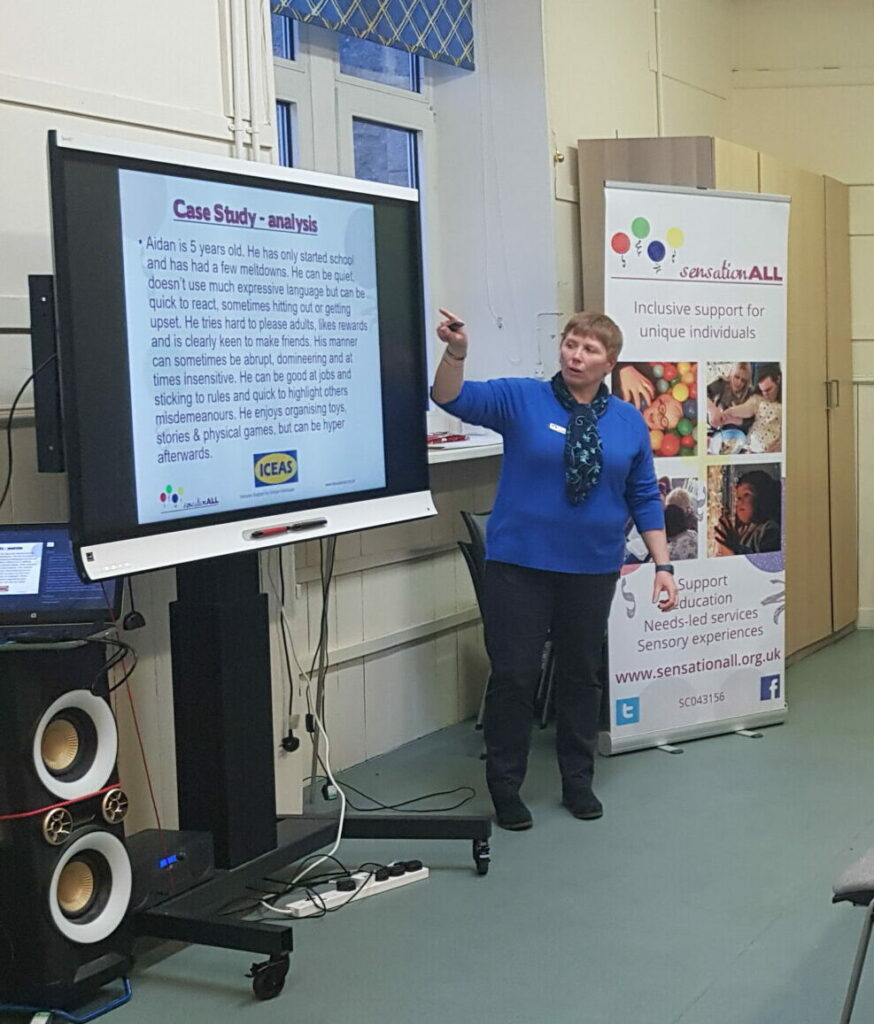 ---
Autism Masterclass
Autism is now widely acknowledged in society. But did you know that people on the autistic spectrum can have great imagination? Or that whilst some may not be able to speak, they can create complex language using electronic aids? Did you know that sensory issues can often be a fundamental cause of challenging behaviour?
When you have worked with one person on the Autism spectrum, you have learned about ONE person on the spectrum
There is always something new to learn about autism. Personal accounts, discussion of associated issues and behaviour analysis with an 'autism filter' will all be covered to promote a spectrum wide, positive focus on autism.
---
Oh Behave!
What do we do when all the 'go-to' behavioural techniques don't work? Dealing with youngsters who have MSN often requires a more 'out of the box' way of thinking. This workshop covers basic behaviour analysis and introduces the importance of developing both PROactive, REactive and Crisis Management strategies for effective behavioural management.
---
Regulation & Relaxation
Many young people today have very busy and frenetic lives. A constant lifestyle full of stimulation, less boundaries and quiet times can result in many of them struggling to keep themselves regulated and in control of their emotions. We focus on the importance of encouraging young people to learn about identifying and coping with their key emotions, signs of stress or triggers. We discuss different forms of self-regulation including integrating stress–reducing and relaxation strategies into your day, (these can also be applied to siblings, or even yourself!!)
---
Practical Strategies
Provides hands-on opportunities to experiment and try out practical strategies and approaches commonly used when dealing with young people with MSN. Bring your own 'challenges' or we can work through example case studies so that you go away with 'ready to use' strategies.
---
Making Sense
Outlines sensory development, sensory processing disorders & common impairments. This is an interactive workshop where participants will be expected to participate in different sensory 'experiences' and as a result, consider appropriate accommodation measures. This workshop is a good base for attending the Sensory Room Design & Use.
---
Sensory Room Design & Use
Ever thought that your MSN youngster would benefit from a calming corner? Wondered why particular children struggle to sit down for any length of time, engage in bizarre behaviour or don't seem to be able to cope at school? Come & find out why that might be – how to create small, integrated sensory areas within your environment for a relatively low cost.
---
Bespoke training sessions are also available for companies, organisations or groups. Contact us to enquire.