SensationALL's services and activities for Neurodiverse individuals and those with complex conditions are a lifeline for many. However, our support is not only for attendees themselves, but also for the wider family. In 2022, we created a timetable of informal support groups for parent/carers. The benefit of having this peer support can be huge!
Many parents tell us how alone and lost they feel so being part of this network helps them cope with the emotional burden of caring for someone with complex needs. The sharing of experiences and empathy they get from the group is invaluable and can result in improved resilience and reduced anxiety.
We thought Mental Health Awareness month was the perfect time to share one of our family's stories…
---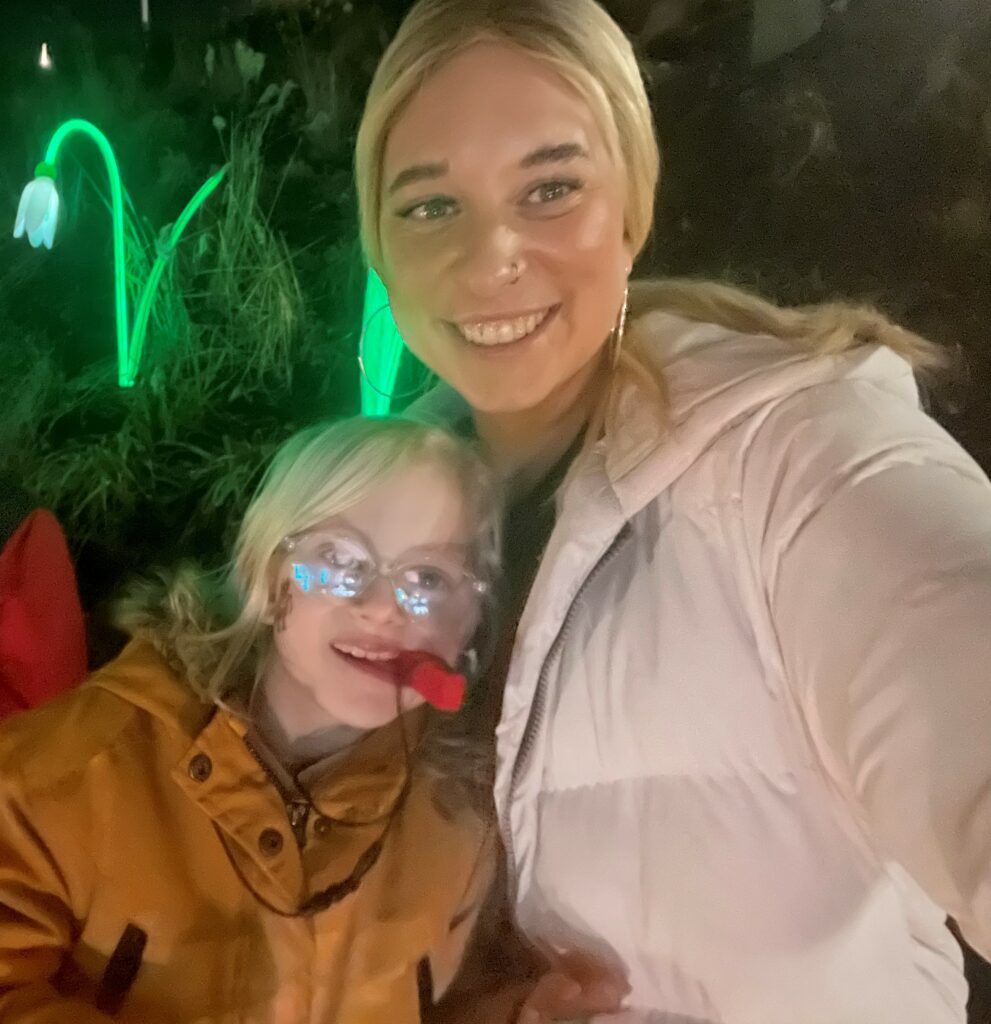 Kelly's daughter Georgia-Rose has a diagnosis of Autism and is currently undergoing assessment for ADHD. Kelly suspected from a very young age that Georgia-Rose might be Autistic:
"She really struggled with her meltdowns which, I originally thought were just bad tantrums but the older she got it became apparent they were so much more! Georgia-Rose is a huge masker – she keeps everything bottled in at school and plays a character to fit into society but, when she gets home the mask comes off and she often explodes. From a young age she has experienced sensory difficulties, certain sounds, textures and smells would trigger her and we didn't know how to deal with it".
The family's first experience of SensationALL was coming to our Santa's Grotto after a disastrous visit to a public grotto when Georgia-Rose left feeling terrified and sad. Her parents were flooded with guilt for taking her somewhere that caused such upset and were devastated she couldn't enjoy something magical that most children love.
After seeing our details on Facebook, Kelly brought her girls to our relaxed grotto at The Old Schoolhouse in Westhill which, was designed to offer an simpler, unintimidating situation for Neurodiverse children to cope with. This time, her reaction to Santa was completely different to Kelly's delight; "the look on Georgia-Roses face was something I will cherish forever! She went straight into the grotto and actually spoke to Santa! It was the most special thing for us as her parents to see her enjoy something that had previously terrified her!"
This positive experience led to Georgia-Rose attending numerous soft play sessions and she completing our self-regulation programme, Chill-OOT. As a result, her confidence and self-esteem has grown massively and she now knows ways to calm herself down when she's overwhelmed and her parents and the wider family have also learnt techniques to help her when she in these situations. Amazingly, Georgia-Rose is able to tell them how things make her feel in different situations which is a huge positive step and has benefited the whole family.
Kelly says, "before I came to SensationALL I had absolutely no idea how to cope with Georgie's meltdowns. I had been given advice from professionals and had done endless amounts of reading online but for some reason nothing seemed to work with my daughter and her difficulties. I constantly felt judged as a parent, and didn't want my daughter to be thought of as a badly behaved kid who wouldn't listen to her parents or just screams and shouts to get her own way. I felt very alone as a parent and didn't know where to I could find help from people who just 'got it'.
I started attending the parent support group every week and it has been the best thing I've done for myself in this journey – I had no idea how much I needed it! Being around other parents who face the same day to day difficulties as I do is just priceless!
I believe its helped me become a better parent to not only Georgia-Rose, but her youngest sister Ellie-Jane too.
SensationALL means the world to me. It's a place I can go and cry and know that somebody will be there for me with a tissue and a hot cup of tea. The support I receive is irreplaceable, SensationALL is somewhere I can go and won't be judged."
Not feeling alone on this crazy journey of parenting a child with additional support needs is the BEST thing ever!

Kelly
---
Our Family Support Practitioner, Jo, is also a parent of a young Neurodiverse son so she has experienced many of the situations that our families face:
"I know first-hand that being a parent of a child with additional needs can be isolating and lonely. Parents of neurotypical children can try their best to be supportive but, through no fault of their own, they cannot identify with the unique struggles a parent of a child with Additional Support Needs face daily.
The sharing of experiences allows parents and cares to be heard, and often, for the first time feel accepted and less alone, it is a privilege for me to watch the magic happen in our sessions.
Usually, our sessions are simply an open forum when, struggling parents can chat, cry and laugh which, releases tension and you see the weight starting to lift as their share their problems. We journey together as a group, grieving the difficult times, proactively looking for practical solutions to ease the struggles. I'm honoured to be part of the SensationALL community for parents."
WATCH – this video features Kelly as well as some other parents talking about SensationALL…
If you're a parent, guardian, or carer, more information on support sessions is here or email us to ask for more information.