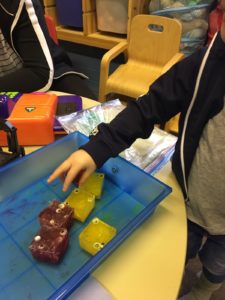 Our first Sensory Playgroup of 2018 is done and dusted! This is a relatively new group for SensationALL and ran once towards the end of 2017. This session ran on Thursday mornings for a 4-week block and was fully booked within weeks of being announced! The next session for term 1 starts on 01st March and runs on a Thursday from 1pm – 2pm (01 March to 22nd March).
The Sensory Playgroup is held in the Old Schoolhouse and run by experienced practitioners. Each week is themed and the group spend time in our soft play room and the sensory room too.
In this recent block we followed four themes:
Transport

Farm Yard

Monsters

Rainbow
Each week we had different sensory trays exploring textures, smells and surfaces that related to the theme. We also had a sensory story for each theme and ended the sessions with a period of relaxation for the children, this usually took place in our Sensory Room or the soft play room.
Here's what some of the parents and carers had to say about out recent Sensory Playgroup:                                                                                                                                                                                                          
"…I feel that as they [SensationALL service practitioners] use Makaton it helps enforce using it and it's the only group we've been to that uses it."
"…I don't feel like my child is the 'odd' one out at this group, it's more inclusive and not judging."
"It's a chance to meet other parents."
"…useful to guide and play with him at home."
"The ideas and knowledge of the staff are great strengths of the group."
"The group is very relaxed and accepting. Positive and progressive approach for the child."
We had amazing feedback from our parents and carers and the children enjoyed exploring the different sensory experiences available to them. We can't wait to start the next block!  
To sign up for the next block of Sensory Playgroup (01 March to 22 March from 1pm to 2pm), please email info@sensationall.org.uk or telephone 01224 746699 #SensationALL