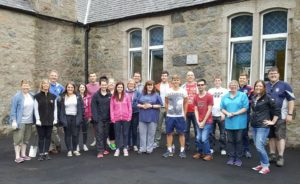 It's Volunteers Week in Scotland and we have taken the chance to give our volunteers an extra thank you! The SensationALL team couldn't do what they do without their help. Volunteering for us comes in many shapes and sizes – you can give your time (even an hour for a play session is a massive help), you can give your time from your business (not sure if you have noticed we are in the process of a massive renovation project…hint, hint), you can help with set ups, tidy ups, making tea, running / cycling for us in charity events or donations!
We promise we don't have any favourites, but for Volunteers Week this year we wanted to recognise the work of some of our regular helpers…
One of our newer volunteers, Gillian gets stuck into to all things SensationALL from office help to Monday Mayhem and is a valued member of our fundraising group.
Penny is a retired clinical psychologist, who regularly helps out at our weekend Stay-and-Play sessions as well as our Preschool Groups and any holiday sessions such as Lego and music therapy.
Kirsty is a media Student at college and volunteers by taking a leading role in our SensationALL singers on a Wednesday evening as well as our poster creator extraordinaire for the fundraising committee.
Emmeline is a music therapist who is actively involved with our SensationALL singers as well as our holiday programmes and a much-valued member of our Fundraising committee.
Moira has been involved with SensationALL from the start.  She volunteers with Monday Mayhem, SensationALL Singers and other groups and events.
Lastly, our Board of Trustees made of eight individuals from diverse backgrounds. Bob McCracken, Jim Bain, Susan Kay, Steve Carter, Yva Yorston, Ross Haworth, Karen Farquharson-Marr and Valerie Burnett.  The backbone of our charity to whom we are so very grateful!
Whatever your contribution looks like, we promise we are very grateful and it all helps us keeping doing what we do for the families, carers, children, adults, health professionals and other users of SensationALL.
We have a few events coming up, that we could really use some extra hands for! The SensationALL team are organising a jam-packed summer from discos, to treasure hunts, outdoor games and lego groups – check out our full timetable and contact us if you are able to help in anyway.